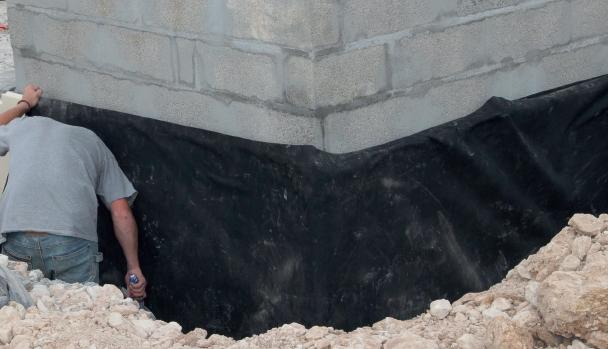 EPDM membrane: an innovative, efficient solution against water infiltration
The current methods used to waterproof the foundations of a house or building should be treated with caution. Complicated to carry out, using harmful products that are therefore prejudicial to the environment…
The existing solutions group together significant disadvantages. By using an EPDM membrane Flexirub offers protection for the foundations of buildings that is both innovative and efficient. Results: the assurance of preventing damp and infiltrations.
A safe, ecological means of providing waterproofing for foundations
Preserving buildings from damp is a significant problem that should be carefully considered. Coating, drainage, waterproofing… Waterproofing foundations is a large-scale project that must not be neglected. The EPDM basement protection developed by Flexirub uses an impermeable, easy-to-handle elastomer. This technique has many advantages. First advantage: in particular it replaces bitumen paint, a hazardous chemical frequently used for this type of waterproofing. In addition, this system allows improved drainage of building foundations. Finally, with its effectiveness, both thermal and ecological, it is the option chosen by many professionals, e.g. for wine cellars or large buildings.
A qualified network of professionals
Do you want to put in a basement protection using an EPDM membrane? Flexirub can put you in touch with a qualified installer to carry out your work. Don't hesitate to contact us!