Flexirub is obtaining technical approval for EPDM Roofing
Flexirub is obtaining technical approval for its concept of EPDM roofing systems
Flexirub is obtaining technical approval for its concept of EPDM 3D prefabrication
The first technical approval for EPDM roofing systems produced by a unique procedure and totally prefabricated in the factory.
Flexirub is a manufacturer of made-to-measure waterproofing solutions for environmental, civil engineering and industrial applications. Its expertise and its concept are to offer simple, fast and efficient solutions with secure installation and an economical procedure.
The various stages of our concept involve simplified measurement taking using a digital laser sending the measurements taken directly to our Design Office database for production of 3D plans. A turnkey solution due to the fabrication of the piece in 3D. As all the welding is hot vulcanised the welds are assembled by fusion of the material molecules (cross-linking). On-site delivery with transport traceability; rapid, simplified and safe installation of the piece without any welding or assembly on site, and also with an exceptional service life of more than 50 years for the EPDM material.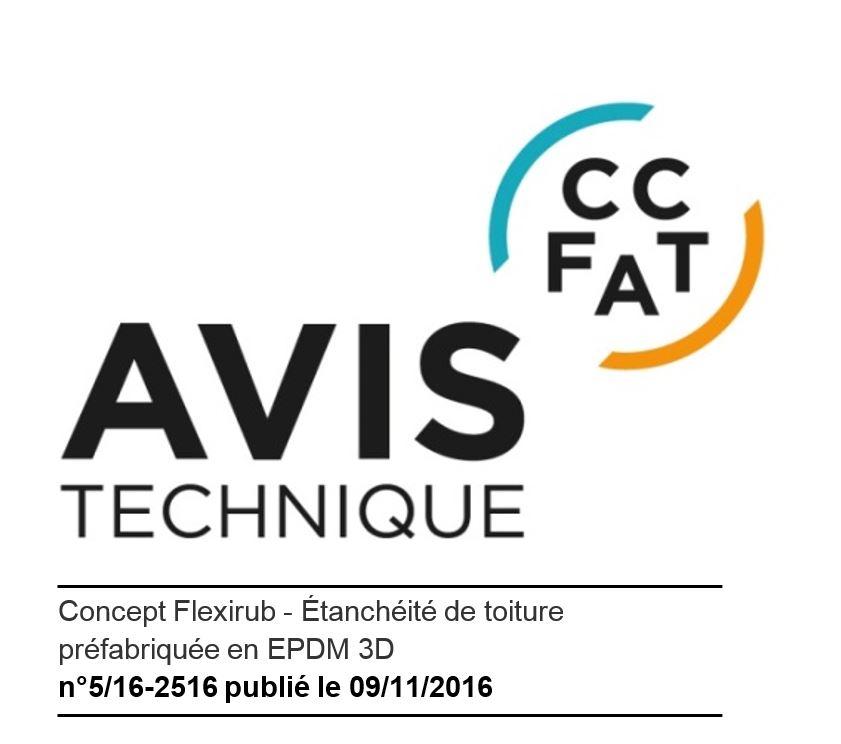 The idea is to change the construction codes and move from a traditional process to a modern one,
which takes into account the constraints of companies to make their life simpler.
Flexirub is celebrating its 20th anniversary. Its strategic development programme was launched in 2012 relating to elastomer solutions. After a long period devoted to R&D, FLEXIRUB committed to the waterproofing market with a great desire to retain its status as the leader in the market for prefabrication of EPDM 3D waterproofing. The technical approval issued to the company gives it credibility and dependability in order to establish itself in its markets.
This approval was issued by the expert commission responsible for granting technical approvals for procedures for waterproofing patio roofs (CCFAT - Commission Responsible for Formulating Technical approvals). With the award of this technical approval, Flexirub strengthens its innovative approach and provides you with a guarantee of durability and peace of mind for your projects.
Technical Approval No.5/16 – 2516 published on 9/11/2016 on the website : http://urlz.fr/4lG9